Principals

Debra M. Amidon: Founder, President and Chief Strategist
Debra M. Amidon is the Founder and Chief Strategist for ENTOVATION® INTERNATIONAL, Ltd. (Wilmington, Massachusetts) - a global innovation research and consulting network linking 61 countries throughout the world. Her own specialties include: knowledge management, learning networks, customer innovation and enterprise transformation. During the past year alone, her presentations have been heard throughout the United States, Canada, France, England, The Netherlands, Sweden, Mexico and Chile. Her advice has been sought by diverse organisations such as the National Research Council, The Agility Forum, the European Knowledge Union, the BBC and most recently - The World Bank.
Known among her peers as a management pioneer, philosopher, architect and visionary, she has captured the imagination of academic, government and industrial leaders around the globe. With her seminal conference in 1987 on Managing the Knowledge Assets into the 21st Century, she set in motion what has evolved to an expansive 'community of knowledge practice' comprised of theorists and practitioners from diverse functions, sectors, industries and geographies. Her recent "Momentum of Knowledge Management" is being translated into several languages and made available over the world wide web.
At Digital Equipment Corporation, she created several strategic functions in strategic human resource planning, one of the first corporate offices of planning and technology transfer and an industrial focus on management systems research in the Office of the President. Prior professional positions include a gubernatorial appointment as Assistant Secretary of Education for the Commonwealth of Massachusetts, as well as serving in other influential academic posts - the founding Executive Director of the Northeast Consortium of Colleges and Universities in Massachusetts and the first female Dean of Babson College.
A prolific writer, her progressive management concepts and methodologies are often cited in the research of others. Her thesis, Global Innovation Strategy: Creating Value Added Alliances (1989) was published by IC2 at the University of Texas where she is a Senior Research Fellow. In the past year, she has produced a trilogy of resources: (1) Innovation Strategy for the Knowledge Economy: The Ken Awakening (Butterworth-Heinemann 1997) captures the state-of-the art with the history, framework and vision; (2) Creating the Knowledge-Based Business (Business Intelligence 1997) defines the state-of-the practice with thirty-three leadership case studies; and (3) Collaborative Innovation: Toward the 'World Trade of Ideas' (Society of Management Accountants of Canada 1997) provides a prospectus for the state-of-the-future.
She has served in a variety of leadership roles, delivered numerous presentations to diverse national and international audiences and published many articles which challenge traditional thinking. Articles have appeared in Research-Technology Management, Knowledge Inc., PRISM and the International Journal of Innovation Management to mention a few. She promotes value-systems (not value-chains), strategic business networks - SBN'S (not SBU's), and customer success (not satisfaction). She is listed in over 30 biographical publications including Most Admired Woman of the Decade and the International Book of Honor.
She holds degrees from Boston University, Columbia University and the Massachusetts Institute of Technology where she was an Alfred P. Sloan Fellow.
Email address: debra@entovation.com
Leading Lights: Author and Strategist Debra M. Amidon
A recent interview with Knowledge Inc. editor Kimberly Merline.
Knowledge Inc. Vol. 3, No. 4 (April 1998)
---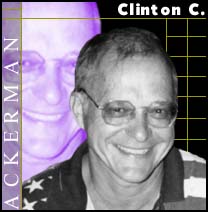 Clinton C. Ackerman, Ph.D.: President - The Network Connection, Inc.

The Network Connection Inc. was incorporated in 1994 from its predecessor, The Software Network. Over that period of time the firm has grown from a sole proprietorship to an organization of over four dozen employees growing at over 60% per year. All growth is funded from profits. Services provided are client/server Software Development and Help Desk Support Offices are in Maine, Massachusetts and Asia. Clients are across the US, primarily in New England. thenetworkconnection.com.

Prior to these activities: Over two decades of industrial line and staff management experience in the chemical, health care, and computer industry in Fortune 50 firms. Positions as Director of Quality Assurance and Regulatory Affairs, Manufacturing Business Manager, Worldwide External Investments Manager. Strong program management and team motivation skills.

Demonstrated ability to create and manage change across and within organisations. Broad understanding of engineering and manufacturing disciplines, systems, and processes. Proven capability in cross functional and multi-geography goals and strategies. Invited papers delivered on technology exchange, investment, and management strategies, most recently "Moving from NIH to O.K. Invented Anywhere."

Degrees from SUNY at Buffalo and Duke University. Postdoctoral Fellow, Los Alamos Scientific Laboratories.
---