[E100 Alert] - Window to the Knowledge City - IDEAS/Boston

Dear E100:

As a native of Boston, I have always been proud of the heritage of our city - a gateway from and to the world.

These have been my own roots in the Knowledge Economy and recent initiatives are exploding with the potential for realizing the Millennium innovation of which I have written. Over the last 15 years, my own travels have brought me to many of your own countries and initiatives. For some reason, it always seems easier to discover and appreciate progress in other organizations, regions and nations. But this week for me personally was a real Return to the Future!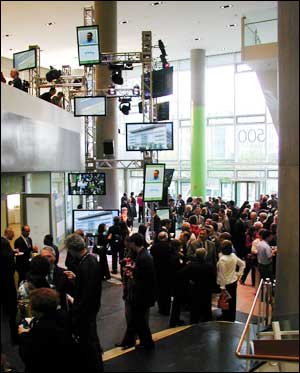 (Boston.com Staff Photo / Adrienne Lavidor-Berman)
500 invited guests allocated 2 full days to the events surrounding IDEAS/Boston - http://www.wgbh.org/ideas/forum. There is no way to give justice to the importance of the event that featured 32 stellar careers (read, listen and see ALL the presentations) - including a psychologist, nanotechnologist, sports technologist, economist, trauma surgeon and disaster relief expert, robotics specialist, biomedical engineers, life science expert, oceanographer, authors, composer, biologists, inventor, physician, research scientist, musician (of music and media no less), educator, obstetrician, attorney, pediatrician and minister, cognitive scientist, professor of religion, architect, sculptor, artist, film director, physician and AIDS researcher, and even a landscape designer who authored the book, 'The Inward Garden: Creating a place of Beauty and Meaning.'
They were MacArthur grant recipients, recipients of Guggenheim fellowships, Pulitzer Prize winners, awards including Rotary Foundation Ambassadorial Scholar, featured in listings such as Time Magazine's 100 most Influential People in the World, guests on national and international public broadcasting, - even the keynote speaker of the Golden Key International Honor Society in Boston...and it was simply a privilege to be in their presence.
They were all given simple, elegant instructions...speak about your passion and focus on your own vision for the future! Imagine...
In the process, the event provided a unique opportunity for unprecedented knowledge exchange, including a realization of significant a relevant work under way to capitalize upon the opportunities afforded this Knowledge Economy. Take a look at the site - http://www.wgbh.org/ideas/forum - and how the conversation continues with feature stories in The Boston Globe. There are even BLOGs to capture real-time summaries of insights.
We also learned about some of the analysis and events shaping this - the Massachusetts (and New England) economy:
Perhaps the most recent and remarkable study - Engines of Economic Growth: The Economic Impact of Boston's Eight Research Universities on the Metropolitan Boston Area - was released to the Boston Chamber of Commerce. "Engines of Economic Growth" is a detailed report on the economic and social impact in 2000 and 2002 of Boston College, Boston University, Brandeis University, Harvard University, Massachusetts Institute of Technology, Northeastern University, Tufts University and University of Massachusetts Boston.
In the year 2000 alone, the study found that the eight universities provided:
a $7.4 billion boost to the regional economy;
work for 48,750 university employees and 37,000 other workers in the region, who pay millions of dollars in federal, state and local taxes;
a talent pool of more than 31,900 graduates, many of whom stay in Boston;
innovative research that resulted in 264 patents, 280 commercial licenses of technology, and 41 start-up companies;
continuing education for 25,000 non-degree students;
numerous programs to help local K-12 schools and individual students;
many community cultural events, such as concerts, plays and lectures;
community improvements through construction of housing, streets, and increases in environmental benefits.
"Greater Boston's eight research universities," said its leaders in an introduction, "are the region's special advantage: an enduring and stable economic engine, constantly changing and developing as new knowledge is gained and new technologies and industries are created. Collectively, our eight institutions are developers and employers of talent, incubators of business and industry, storehouses of cultural resources, research centers, purchasers, economic magnets, and community partners committed to our state and local governments. According to reports, the annual economic impact of more than $7 billion on the regional economy is like having the Olympic Games every year. Seven billion dollars is what New York City experts estimated would be the cumulative economic impact, from 2005 to 2012, of the construction and visitor spending for the 2012 Summer Olympics Games in New York.
Core and recurrent themes of IDEAS/Boston included:
Border-crossing
Hybrid skills and professions
Connections, dialogue and meaningful conversations
Building bridges
Acting on our aspirations
Seeing the world a bit differently
This is no surprise to us as knowledge practitioners. What is remarkable is that the concepts and language have permeated a diverse base of talent - those in a position to influence our future.
There was more...MUCH more. The conversations were so engaging, all in attendance know that the fundamental transformation is really happening and we all have a role to play. Perhaps you should consider exploring your own cities and regions as a way to prepare for our E100 Roundtable scheduled for September 6th, 2004. Consider the prospects for our Knowledge Cities Observatory (KCO)...
En route to Barcelona...
Debra