[E100 Alert] – Après Dubai: A Wave of Insight
Dear E100:
From dawn to dusk, delegates from the World Summit on Innovation and Entrepreneurship (WSIE) 2008 enjoyed a feast of experiences. More than 800 top names from across the globe attended the three days of innovation theatres, interactive workshops and thematic experiences to build a foundation for increased innovation.
The 2008 WSIE provided an impressive line-up of remarkable leaders and personalities, including designers, policymakers, technologists, communicators, spiritual gurus, economists, storytellers, humanitarians, chief executives and musicians from across the globe. It was an opportunity to learn from representatives from over 70 nations and make connections between technology, culture, the performing arts, green (and blue) environments, and the role of innovation as an instrument for world peace – our parting comment at the 2006 WSIE in Oman!
The 2008 WSIE was supported by the Organization for Economic Co-Operation and Development (OECD), multiple agencies of the United Nations, the African Union and leading international business councils and multinational corporations. Strategic sponsors include Sorouh, HP, Agility, Geopost, PepsiCo, Nokia Siemens Networks with CNBC Arabiya as the official broadcaster and Emirates Airlines as the official carrier. Visit the updated website - www.wsie.org
ENTOVATION Interaction…
In addition to many local colleagues, several E100 made it to Dubai: Janis Stabulnieks (Latvia), Piero Formica (currently in Sweden), Olimpia Salas (Venezuela), Clint Ackerman (USA), Bryan Davis (Canada) and of course Sam Hamdan (Lebanon/USA) – the WSIE architect.
We were provided a tour de force of the Dubai landscape, from the waterfront marinas to the Free Zones and even an inside view of the floating Palm Island under construction. We had views of Dubai Knowledge Village, the Media City, the Financial District, the Internet City and plans for the Humanitarian City. It put into perspective the hype from the aspirations and the extraordinary UAE leadership and blue communities under development by Nakheel, the WSIE sponsor.
We were also sponsored by a new company – The Edge – based in Dubai. Their unique focus is on Knowledge Work Environments – a field that has been underrepresented in the knowledge profession-to-date. Included were Joumana Al Jabri, Ayman Zahreddine, Hani Asfour Rita Younes and Marwan Homsi among others. Take the initiative to be some of the first exposed to these exciting plans - http://www.theedge.ae/; and stay tuned for further announcements.
1st International Award for Knowledge Innovation®
Perhaps the most exciting event was the Innovators Hall of Fame that recognized 10 global luminaries. Drawn from a pool of almost 1,000 icons, geniuses and mavericks, the Most Innovative People were honored with trophies designed by renowned Spanish sculptor, Fernando Capa Sanz. The awards represent a journey of enlightenment that expresses the story of progress and prosperity pointing the path from the industrial age towards a knowledge-based revolution.
Recipients included Ms. Hamda Harizi, Founder of Gourmet House for Remarkable Enterprises, Samuel J. Palmisano, Chairman of Board and Chief Executive Officer of IBM for Technology Innovation, Archbishop Desmond Tutu (Human Greatness), Neil Turok, founder of the African Institute of Mathematical Sciences (Social Innovation), Ms. Padmasree Warrior, Chief Technology Officer of Cisco Systems (Women Mavericks), Innovivor Team (Inspiring Ideas), Marc Yu, child prodigy (Amazing Minds), Sultan bin Sulayem, Chairman of Nakheel (Blue Innovation) and H.E. Paul Kagame, President of Rwanda (Innovation for Peace).
The Award for Knowledge Innovation® was presented to Mr. Ashok Soota, Chairman and Managing Director of MindTree Consulting as a tribute to his:
| | |
| --- | --- |
| | Foresight: Bold ability to recognize the knowledge economy as an opportunity for his country and the world as well as for his inspiring foresight in encouraging the strategic management of knowledge innovation. |
| | |
| | Courage: Solid track record of upholding the vital virtues of innovation – confidence, compassion, humility, honesty, integrity and diligence as well as for his courage to lead by values, with integrity and supportive of openness, transparency and questioning within the organization. |
| | |
| | Benevolence: Indelible effect in imparting a sense of significance, community and meaning across all enterprises, departments and efforts as well as for his steadfast belief in developing people into knowledge leaders, both in his organization, and in the industry at large. |
| | |
| | Connected Leadership: Transformative force in building MindTree Consulting as an interconnected knowledge ecosystem, led by ideas and nurturing of capacity through community collaboration and leadership development. |
| | |
| | Execution Excellence: Relentless execution and incredible effectiveness to transform and grow several enterprises into market leaders and to harness intellectual capital to innovate and generate profitable and sustainable economic value. |
The Most Innovative People Award for Knowledge Innovation honored the creativity, compassion and community demonstrated by Ashok Soota in innovating his enterprise, the nation of India, and the society of entrepreneurs around the globe.
Thanks to the efforts of E100 Raj Datta (India) and Ron Dvir (Israel), MindTree Consulting produced a corporate version of the children's nook – In Search of Innovation - and made it available to al WSIE 2008 delegates. Mr. Soota's Foreword is a reminder to us all of what is involved in innovating our future…together!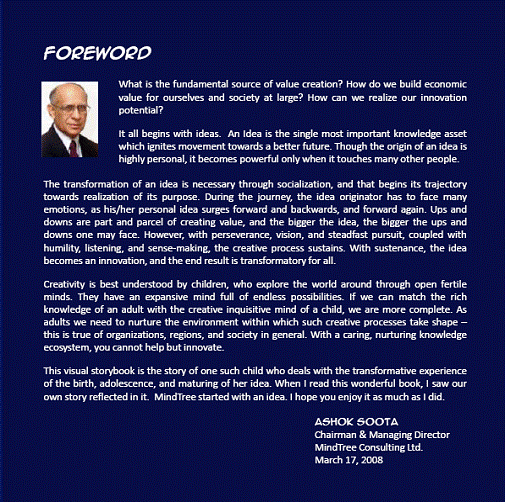 Innovivors…
Our closing statement at the WSIE in Muscat, Oman, was that 'Innovation is the instrument for World Peace'. The Globat Leadership Team (GLT) had taken up the gauntlet; and initiated another program innovation – Innovivors…intended to ignite the innovation capacity of youth. The intent is to engage stakeholders from all walks of society to fund, design and implement 'Innovation Pearls' that will catalyze the imagination of impoverished youth, initially throughout the Middle East and Africa.
The program as designed is intended to also awaken the spiritual and social qualities of youth, facilitate collaboration through new innovations, and incorporate youth into interfaith dialogues. They plan to develop the blueprint for the 1st Youth Innovation Network (YIN), the 1st 'Innovation for Peace'TM Tour, and an 'Innovation for Peace'TM Education program, and to produce the 1st 'Innovation for Peace''TM Reality TV Program. Plans are already underway for a meeting at the United Nations to lobby for a global youth passport – one of the many ideas coming from WSIE deliberations.
You can review the results of WSIE 2006 that was held in Muscat Oman. As soon as the final report of WSIE 2008 in Dubai is ready, we will scope it for you!
Why is this significant?
ENTOVATION [Enterprise Innovation] has been dedicated to bringing together the two communities, which until now have been rather separate. The Knowledge Community needed the rigor of the Innovation Community; and the Innovation Community needed to evolve beyond technological innovation into an understanding of the flow of knowledge. Now, we can go beyond knowledge and innovation into Knowledge Innovation - an idea that was only a concept 15 short years ago.
Now, we have excellent examples from the Chinese Knowledge Innovation Program, India's plans to focus on Knowledge Innovation and even countries like Uganda utilizing the terminology as a vision to catapult progress. Knowledge Innovation Zones (KIZ) are sprouting in ever corner of the globe and some with enviable detailed action planning. Many are experimenting with modern measures of intellectual capital and intangible wealth; and the notion of knowledge innovation ecology has become a reality.
Innovation value networks and collaborative technology platforms are now the norm; and management methodologies are evolving with kaleidoscopic speed. Twenty years ago, these terms were just that – concepts, labels…and in some instances wishful thinking. Today, many of the best examples are grounded in practice with a new sense of values, valuing and valuation.
Some would say we are amidst a (positive) Tsunami – if there could be such a thing. We are definitely amidst a sea change where a critical mass of leadership is not questioning the Knowledge–based Economy, Society and Infrastructure; they are asking how best to manage and seeking best practices and demonstration projects to document performance success.
Our work, then, has clearly only begun…
Always in your Network,
Debra
NOTE: Knowledge Innovation® is a registered trademark of ENTOVATION International Ltd.