[E100 Alert] – Join the Innovation Action - WSIE in Dubai 1-3 April 2008   

Dear E100:

YOU are invited…

If you missed the 2006 World Summit on Innovation and Entrepreneurship in Muscat, Oman, you will NOT want to miss WSIE 2008 - Dubai in April! Take a peak at what is in the works: www.wsie.org.

E100 Sam Hamden, Global Leadership Team, has just announced his plans; and here is YOUR special ENTOVATION invitation to participate…

<![if !vml]>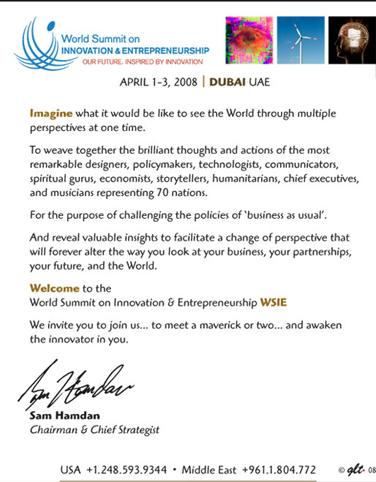 <![endif]>
You may want to refresh your memory of all that happened two years ago by scanning the previous E100 Alerts:
http://www.entovation.com/mailing/jun06-wsie_oman.htmhttp://www.entovation.com/mailing/jun06-apres_oman.htm
And I encourage you to scan the summary of WSIE 2006 which included a Call to Action - http://www.wsie.org/06/index.asp. You will see the insights and testimony of E100 throughout the documents.
This year, Rwandan President Kagame will inspire WSIE delegates with his country's remarkable journey from tragedy toward a knowledge economy. Other highlights include WSIE event partner Nakheel, who will utilize the Summit's world stage to promote ecological longevity in coastal environments. EVP of Innovation for IBM, Nick Donofrio will outline endeavors on the future of innovation technology and its social impact globally. The Minister of Innovation Policy from Ireland, child prodigy Marc Yu and the Chief Innovation Officer of Humana are also a few of the select delegates gracing the stage at WSIE 2008.
IMAGINE…
Innovation Theatre of the Greats

Transforming Societies - Innovation for PeaceTM

Decoding the Future of Business: Moving Beyond the DNA Ties

The Power of Entrepreneurs to Change the World: Living a Life of Chaos & Creativity

Using New Science to Rewire the Brains of Youth

Beating the Gender Odds: Creative Minds Gone Right

Media Unbound: Unchain the Channels

Rethinking Patents: Laws that Amaze

The Chief Innovators Hall of Fame

Architecting Future Capitals: Practicing Diversity. Growing Communities.

The U.S Greatest Challenge: Rise of the Asian-Arab-European Innovation Triangle

The Shape of Innovations to Come: A Whole New World

Thinking Blue: Towards a Better Coastal Future for All




Now, imagine 800 innovation and entrepreneurial visionaries from over 70 nations – coming to a common language, shared vision and actionable strategies to bootstrap the innovation capability worldwide…and YOU can play a role!

To learn more about how to participate and receive a 20% discount, contact me or Aurora Torres at (248) 808-1334 or atorres@gltweb.com.

If you have been wanting to explore the magic of Dubai, NOW is your chance…and with a cadre of extraordinary innovators with purpose.

Let me know if you plan to join us…

Debra
P.S. You might notice in our PressRoom - http://www.entovation.com/press-room/for-immediate-release.htm - that we have been featuring several of your activities. What have we missed?