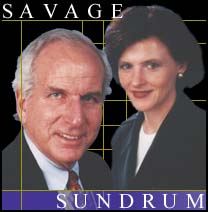 Name: Dr. Charles M. Savage
Title: President and Mentor
Affiliation: Knowledge Era Enterprises, Inc.
URL: www.kee-inc.com

Name: Ms. Elisabeth Sundrum
Title: VP and Mentor
Affiliation: eCultureTeam.com
URL: www.ecultureteam.com
Country: Germany
"Adam Smith realized that the factory model would "stupify" people. The Knowledge Era creates opportunities that "smartify" people in exciting and unexpected ways."

"We are just at the beginning of a fifty-year transition."

"Think in terns of 'verbs' not 'nouns'."

"The Knowledge Economy can be a multiplative economy where we can multiply the significance and value of one another's ideas, inspirations and insight."