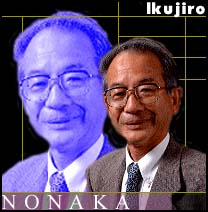 Name: Dr. Ikujiro Nonaka
Title: Professor
Affiliation: Graduate School of International Corporate Strategy, Hitotsubashi University
Country: JAPAN
"Where organizations were previously seen as imposing a system of limits, I see them helping to give birth to new knowledge and information."

"Knowledge is active based upon your own subjective beliefs. Information is transient; but knowledge is eternal. Knowledge is about aspiring to truth, goodness and beauty."

"The West has emphasized explicit knowledge. By contrast, tacit knowledge is an Eastern conceit. Japanese have always emphasized their oneness in nature."

"If companies could become more aware of the process themselves, it could become the management paradigm of the next century."