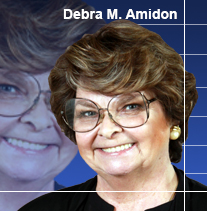 Name: Debra M. Amidon
Title: Founder and Chief Strategist
Affiliation: ENTOVATION International, Ltd.
Country: USA
URL: www.entovation.com, entovation.com/gkii
"It has evolved into a 'community of knowledge practice' with a vision of international collaboration."

"'Kaleidoscopic change' demands an entire new form of management philosophy, standards and practice."

"A new economic world order is based upon knowledge (not technology), innovation (not solutions), value-systems (not chains), customer success (not satisfaction) and international collaboration (not competition)."

"There is a leap of faith and trust required to take advantage of the opportunities afforded in this new knowledge economy."