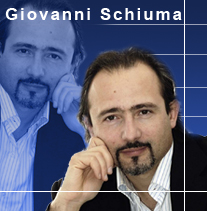 Name: Dr. Giovanni Schiuma
Title: Professor of Innovation Management
Affiliation: University of Basilicata
Matera, ITALY
Country: ITALY
URL: www.gschiuma.com
http://www.knowledgeasset.org/IFKAD/index.asp
"My vision for the knowledge economy is the recognition that knowledge is a necessary condition for development, but not sufficient. We need to understand how we can develop intelligent organizational system able to create the conditions for sustainable development."

"Architect of the International Forum on Knowledge Asset Dynamics (IFKAD), the most recent international congress being held in Glasgow hosted by the Intellectual Assets Centre."

"We need to develop a better understanding of the dynamics linking knowledge assets with emotions in organisations. Knowledge assets represent the value drivers of any organisation system. Therefore, people need to learn how to assess and manage these assets to support and drive value creation dynamics."

"The aim is to develop both theory-based and practitioner-applied research to support private and public organizations in their search for excellence. Industries include: Arts, Construction, Environment, Public Organization, Non-Profit Industry, Furniture, Automotive, Tourism, Service Industry, Clothing, and Fashion."