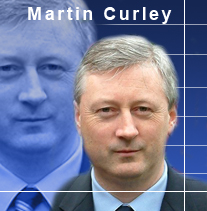 Name: Dr. Martin Curley

Title : Global Director, IT Innovation
Affiliation: Innovation Value Institute
Intel Corporation

URL: http://ivi.nuim.ie

Country: Kildare, IRELAND
"IT and business managers need to reformulate the way they manage IT. Traditionally, IT success has been measured in terms of IT parameters such as up time, capacity, and processing speed. If IT is to deliver business value, IT should be measured in core business terms---for example, customer satisfaction, revenue growth, and profitability."


"Many argue that CIO really stands for "career is over". But given the right tools, the CIO could become an organization's 'Chief Innovation Officer'."

"Successful companies actively cultivate new ideas, put those ideas to work quickly and efficiently, and harvest the business value benefits of successful innovations. Innovation is not just about what a company offers, innovation is also about how a company conducts business and how IT innovation can transform an organization into a significantly more efficient company."