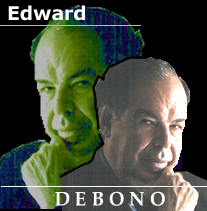 Name: Dr. Edward de Bono
Affiliation: The Edward de Bono Foundation
URL: www.edwarddebonofoundation.com

Country: IRELAND

"Conformists are good at playing the game. At school they quickly learn how to pass tests, how to please the teacher, and how to copy when necessary. Later in life they are also good at assessing the game that is in play and then good at playing that game. So we have tended to leave creativity to the rebels. These are the people who cannot play the game, do not want to play the game, and even want to be different for the sake of being different."

"See beyond current paradigms: 'The Mechanism of the Mind' and later in 'Lateral Thinking' establishes the theory that creativity is a skill that can be developed and enhanced through structured training and teaching."
"With the advantage of having studied medicine that deals with complicated biological systems, one can come from creativity from multiple facets - the psychological, art, cognitive sciences, and self-organizing systems where you can derive mechanisms and interventions. In fact, you can inspire attitudes."

"So that's the kind of thing that's extremely satisfying - seeing things happen, where people are teaching thinking, even at a very basic level, and it's making a difference. Seeing this change people's lives, where they feel a greater control over themselves, where it changes what they think they can do and what they think about themselves."