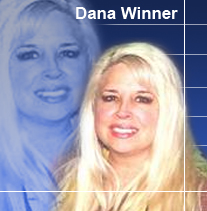 Name: Dana Winner
Affiliation: USAID/Iraq, Knowledge Management Analyst
International Knowledge Management Institute, Partner - Middle East
IMTAS, International Systems Division, Executive Director

URL: http://www.usaid.gov
http://www.imtas-intl.com
http://www.dana-winner.com/

Country: Kuwait/Iraq/USA

"Music is part and parcel of the delivery of The Message. The affect of music on the mind is profound and, contrary to the notion that music and math are opposites, music and math are overlapping, inter-related and mutually supportive."
"Implemented some of the earliest eGov systems - first 2 prototypes in Kuwait (in 1994-95) as part of UN democratization projects and then the National Institute of Health Commons (in 1997-98)…responsible for the Design, Plan and Implementation of the Iraq Ministry of Defense HR/Payroll system. All of these were 'break-through' projects for varying reasons"

"Our challenge is the bridge-building between US and Middle East, rebuilding Iraq and reformation of the Arab-Muslim world such that seeking knowledge, innovation and inventiveness as in the Golden Years of Islam can return."
"So far investments that profess to be building the Knowledge Economy are really 'real estate' management deals starting with Internet City, Media City, Medical City, Knowledge Village and so on - they are primarily Duty Free Zones where foreign companies from east and west can locate their Middle East offices and do business without fundamentally influencing the local economy."

"Whether people feel comfortable acknowledging it or not, religious beliefs permeate everyone's behavior, even for those who are not religious, their culture embodies religious beliefs. The roots of Islam, Mosaic Judaism and Christianity are the same and what appear to be three distinct religions are much more overlapping than is commonly thought."