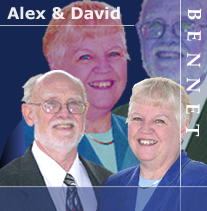 Name: Alex and David Bennet

Affiliation: Founders
Mountain Quest Institute
URL: www.mountainquestinstitute.com
Country: USA
"We began to develop the 'integrative competencies', the overarching knowledge and skills needed to survive in a changing, uncertain and complex environment. Founded the Mountain Quest Institute, a research and retreat center nestled in the Allegheny Mountains of West Virginia that is dedicated to quest for knowledge, consciousness and meaning."

"We have the challenge of breaking through the aura of historic successes that brought about by industrial mechanistic thinking and grinding new lenses to view and succeed in a new world How do we move from the competitive local mindset to the win-win global environment offered through the living network that is today's world, as one thought leader terms it, into a more human and humane future."

"We (US Department of the Navy) created a shared vision, built the business case, demonstrated leadership commitment, facilitated a common understanding, defined limits, shared new ideas, words and behaviors, identified the strategic approach, developed a structure, measured and incentivized, provided tools, promoted learning, and then envisioned an even greater future".

"Dealing with meta-knowledge, learning, relationships, ideas, methods, processes and meaning, it helps individuals and organizations improve their capacity to perform well by fostering growth, collaboration, social interaction and the fundamental human values of honesty, integrity, sharing and trust. The burning question that keeps readdressing itself in our thought is how do we use this gift, this focus on knowledge, a refocus on people, to create a better society, a better world?"