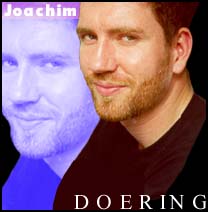 "Beyond improving the known."
"Very soon the world will be driven by (the innovations out of) knowing communities Self-regulated global communities of practice."
"Now we do discover the power of knowledge - the fission to 'unleash' our global potential."
"Measure and reward knowledge performance."
---
Joachim (Joe) oversees all sales operations of Nokia Siemens Networks in Malaysia, Singapore, Philippines, Sri Lanka and Brunei. He was Senior Vice President of Siemens Communications, Siemens Malaysia Sdn Bhd prior to this appointment.Previously, he served as the Senior Vice President of Siemens Communications, Siemens Malaysia Sdn Bhd and had overall responsibility of the telecommunications business in Malaysia.

Joe has been with Siemens since 1989 and has held a number of leadership positions, including Group Vice President of Information and Communication Networks, Head of Group Strategy; Vice President for Business Transformation and Coordination. Before that, he was the global Head of Strategy at Communications, focused on managing business portfolio, identifying select areas for growth and expansion such as partnerships, new markets and acquisitions, as well as driving the development and execution of an overall corporate strategy.
During the past 16 years, Joe has gained a wealth of international experience in Europe, USA, Japan and Southeast Asia, across the carrier and enterprise businesses.

Several notable projects that he led included the build up of global Knowledge Sharing and the decentralization of Siemens Information and Communications Network global value chain. He is also credited with spearheading the LifeWorks Concept using multimedia to enrich and ease consumer and professional lifestyles.

Joe is co-founder of the Centers for Change- and Knowledge Management at the TU Berlin and Multimedia University Kuala Lumpur, and he has lectured on Business Transformation at numerous technical universities. In addition, he is an invitee and active member of the World Economic Forum in support of developing new economies and stimulating growth for emerging countries.

Joe holds a Masters degree in Industrial Engineering from the Technical University of Berlin and a Degree in International Business from Haas Business School, University of California, Berkeley, USA. He lives in Kuala Lumpur with his wife and daughter.